Avast VPN Not Working Error Recovery [2020 Updated]
Avast VPN not working? That is a burning question for VPN users this year. Although Avast VPN is one of the most commonly used, users still encounter this problem. One of the problems could be an error in establishing the connection. In this guide, I will take you on the ways through which you can overcome Avast SecureLine VPN working issues.
What are the reasons behind Avast VPN not working?
Avast SecureLine VPN can help in multiple ways from blocking hackers on public WiFi to restrict advertisers tracking your every activity online.
But you may have heard that all that glitter is not gold, similarly, Avast SecureLine VPN sometimes stop responding due to the following reasons:
Installation Issues: The main issue that causes Avast VPN not working includes using outdated and corrupt software installation.
Internet Issues: Avast Secureline VPN will also cause problems working when there are problems with your network connection.
Location Issues: You will surely be going to face Avast VPN not responding errors when you let the software select its location manually when establishing a connection. This problem occurs when the location, to which VPN is manually connecting to, is full or overloaded.
Third-party interference Issues: Not just AvastVPN but any application that can cause problems working when interfering with third-party applications.
Subscription Issues: Are you sure you have a valid Avast SecureLine VPN subscription? Because this might be one of the reasons that can cause Avast VPN not working.
How to Resolve Avast VPN Not Working Error:
You might now be fully aware of the main bone of contention against Avast VPN working problems.
Now, I will take you to a step-by-step guide to the most effective methods to fix the "Avast VPN not working" problem from scratch in 2020.
Guide 1: Overloaded Servers – Change the location of your VPN
As mentioned in the problems, Avast VPN manually selects the location to which sometimes results in influx to the location requests on just 54 servers for millions of users.
In order to resolve Avast VPN location issues, you need to select a VPN location by yourself. Try choosing locations that are very common like Australia or the USA.
The step-by-step guide to change your Avast VPN location are as follows:
First of all Open your Avast VPN application then on the left side of the screen, select the Privacy option.
After selecting the Privacy option, press the Change Location button and make sure to select a location that wasn't selected before.
Next, press Save Changes and then reboot your computer.
This is one of the most common problems causing Avast VPN not to work because of having only 54 servers for millions of users. This guide would have fixed your Avast VPN not working issues, if not you can skim to the next guides.
Guide 2: Problems from your end – Check your Internet Connection
Avast VPN not working error can eat your brain leaving you frustrated as to what is the main issue behind this fault. Sometimes the problem is not from the company but from your end, in most cases, your Internet does not work properly or your ISP (Internet Service Provider) has blocked your connection because of the non-payment of your monthly fees.
To overcome Avast VPN not working error, the easiest yet effective solution is to just unblock your connection or just restart your router
Yes, it is as simple as that.
Guide 3: Subscription Problems – Check your valid Avast VPN Valid Subscription
In order to use Avast SecureLine VPN, you need to keep yourself subscribed. Most of the time, the Avast VPN service can cancel your subscription if you misuse the service due to non-payment issues. You must go through the Privacy Policy of the software when you accept it before downloading the software.
You can either check your emails in order to check and validate if your Avast VPN subscription has been canceled or you can do it manually by going to official Avast account to see if you have enabled subscriptions.
Log in to your Avast VPN account and validate your account & payment details. After that, you can have an idea of whether your account has been blocked or not.
Guide 4: Firewall Configuration – Turn off Windows Defender Firewall
Another problem can be your firewall configuration. A firewall sometimes hinders the connection of VPN and causes errors.
Therefore, you can overcome Avast SecureLine VPN not working error by adding the VPN to the exclusion list of the Windows Defender firewall or by turning the Firewall off.
Run this step-by-step guide of how to turn off your Windows Defender Firewall:
On Windows, open the Run application and enter firewall.cpl, after that click OK to which Windows Defender Firewall will open.
After opening the Firewall Setting, simply select Turn Windows Defender Firewall on or off to open the Customize Settings.
Next, Check both radio buttons to Turn off Windows Defender Firewall(not recommended) options and press the OK to save settings.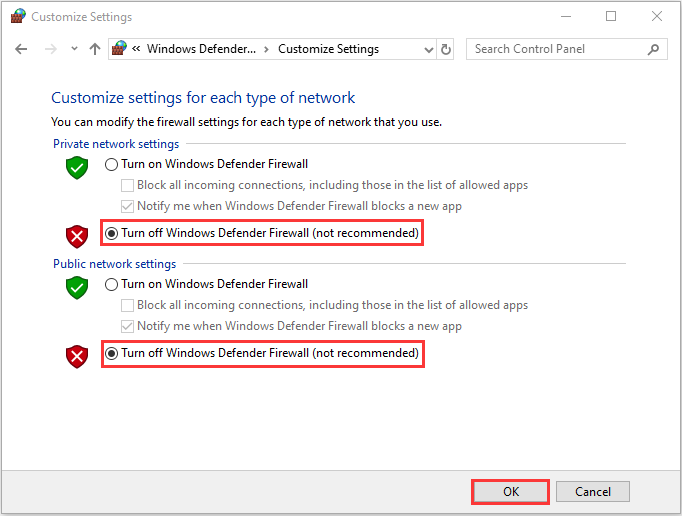 Guide 5: Software Conflicts – Turn off Third-Party Antivirus Software
Another reason that can cause Avast SecureLine VPN not working is third-party antivirus software. Therefore, you need to turn off third-party antivirus software to fix your connection with the VPN.
You can follow this step-by-step guide to turn it off in two-ways:
First, you need to open your Avast Antivirus interface and select the Components option on the left.  After that, click Customize then select File Shield in the Security section.
After that, on the left select Exclusions then to find the antivirus software you want to exclude, click the browse button.
Now you have to tick the desired checkboxes, after that click OK then, click Add to continue to add more files or folders to the exclusion list.
The main reason behind AvastVPN not working with Netflix:

Even though Avast VPN is one of the renowned VPNs in the list of free and easy-to-use software but what about the burning question to Avast VPN not working with NetFlix?
I am afraid to say that Avast VPN is not compatible with NetFlix is not supported, all of its 54 servers worldwide have been detected and blocked by Netflix's anti-VPN software.
Very few servers of Avast have fortunately proved to be able to unblock NetFlix years before but time has changed.
The reason behind Avast VPN not working with NetFlix is its limited serves globally.
Moreover, NetFlix VPN is working every day to automatically blacklists IP addresses associated with VPN servers and it took a few minutes for NetFlix to detect all 54 Avast VPN servers.
The main reason behind Utorrent not working with Avast VPN:
Not all servers allow file-sharing and downloads.
Being one of the free VPN software in the market, Avast SecureLine VPN has not invested in special P2P file-sharing servers which are used for torrenting.
You can use PureVPN special heavy-duty servers in Brunei, Luxembourg, Turkey, Netherlands,  Russia and several other locations for super-fast unlimited P2P file-sharing and downloading.
Benefits of Avast VPN
You can bypass geographical location to stream your favorite local content from anywhere.
Some airline websites price discriminate by changes prices according to your geographical location. You can use a VPN to avoid that variance in prices.
Some countries have blocked access to social media but you can use a VPN to bypass that restriction.
Making a transaction while connected to any Public WiFi is extremely risky but VPN allows you to securely connected to a VPN.
Hide all the browsing activities on any wireless or local network.
OTHER VPN INFORMATION: